ABOUT
Taipei based artist Meuko! Meuko! is an experimental music producer and Live performer, who formerly collaborated with Goodbye Nao member. She started performing solo in 2015 and then in 2017 under the monocle Meuko! Meuko! with A/V sets created in collaboration with Taipei Based Visual & Installation group 'Naxs corp.' Each performance contains improvisation and elements of new works, combining disciplines of improvisation with conceptual ideas of noise, clubbing , strange sounds, field recordings that conjure at times ritualistic performances with sources tracing back to Taiwan's own spiritual landscape. Between Taoist gods, Buddhist ceremonies, is the myriad of a cityscape with tropical humidity, it's greenery enveloping the molding concrete city blocks.
從2007年開始與實驗聲音團隊 "再見奈央 Goodbye Nao"成員合作即興演出,2015年開始製作個人演出計劃。結合實驗電子即興,用合成器、取樣機等硬體器材現場演出。環境情境式取樣採集混沌噪音為始,在當代賽博城市中聚合沈靜交雜著噪烈情緒,以無序景觀、悶熱空氣與泥濘街道描繪成實驗性音景,解構電子節拍相互混合後工業金屬聲響,微小元素中都隱含了暗黑中的沈思。每場演出都包含即興創作與新作品元素,探索聲裏情感與世界的對應。
2018在瑞士廠牌Danse Noire發行 "鬼島 Ghost Island" 數位專輯作品,以"鬼島"隱含的悲憤、孤絕情感,及其原始、遊蕩、超脫的狀態,結合創作者對於身處環境、宗教情感與歷史脈絡的思索,將"鬼島"狀態化為積極面向當代後網路社會的科幻寓言,並與台灣新媒體藝術團隊"涅所開發Naxs corp."從2017開始長期合作現場影音演出。
Live Experience 所有演出經歷 (傳記 biography) : facebook.com/meuko2/about
RA : https://www.residentadvisor.net/dj/meuko-meuko
NTS Radio shows : https://www.nts.live/shows/meuko-meuko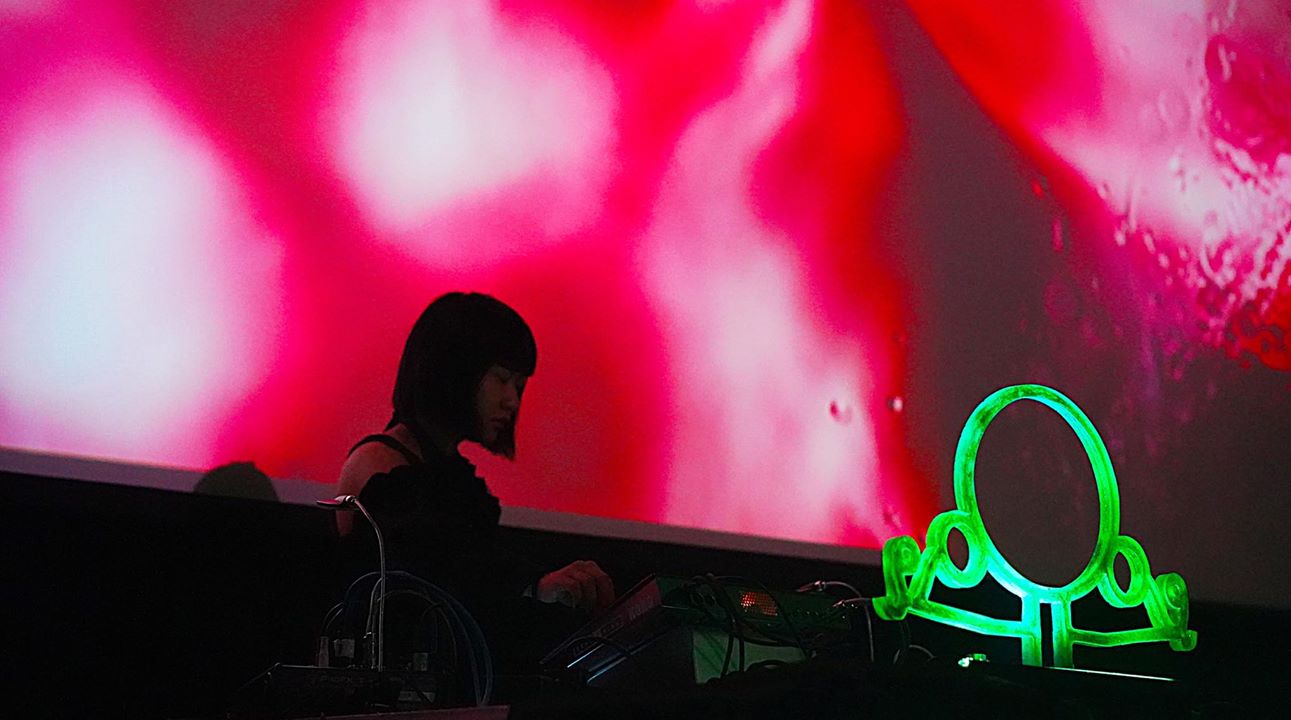 Audio-visual Performance :Meuko! Meuko! - Ghost Isalnd
Starting from Meuko's dreamscape, NAXS has created a dystopia world with abandoned statues, floating ruins, stray dogs and hieroglyphics. Taiwan, often referred to "Ghost Island" by it's anxious, repressed young inhabitants, correspond directly with the image.
NAXS and Meuko 3D scanned the streetscapes, temples and Meuko's hometown of her childhood, try to convey the moist atmosphere of the island to the virtual world. At last, all these ghosts, dying gods and emotions will compound into a green-eye cyber-beast, to raise our bones, and let us live beyond the terror.
Based on the techniques NAXS have developed for their VR theatre project "Render Ghost", the visual set of Ghost Island is running on a real-time engine (Unity3D), aiming to create a immersive experience for our audiences.
"鬼島Ghost Island"計畫是一個融合了新媒體裝置、即時影像、實驗電子音樂、儀式劇場概念的新型態演出。試圖在美術館空間、劇場空間、流行文化之間尋找屬於網路世代的展演形式。
"鬼島"一詞存在於台灣網路文化,源於年輕族群對於自身國族、政治、經濟狀態的猶疑不安與無力感。作品則以"鬼島"隱含的悲憤、孤絕情感,及其原始、遊蕩、超脫的狀態,結合創作者對於身處環境、宗教情感與歷史脈絡的思索,將"鬼島"狀態化為積極面向當代後網路社會的科幻寓言。
奠基於NAXS在數位藝術裝置、虛擬沉浸劇場的經驗與成果,結合了Meuko!Meuko!現場電子音樂演出、燈光裝置以及影像符號設計,轉化表演者為來自廢棄軍用設施的監控人工智慧體,觀眾則在其帶領下漂浮穿梭於廢棄的現實都市、幻夢間的山陵與虛擬的廟宇中,尋找在訊息時代安身的所在。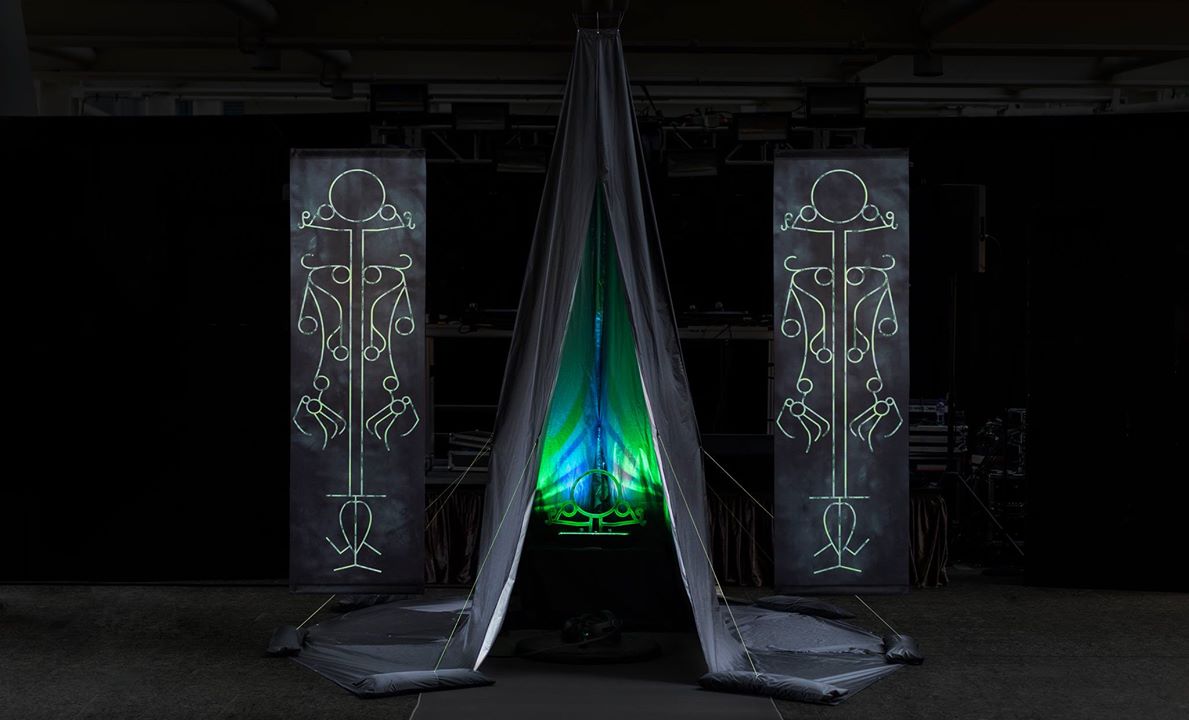 VR沈浸式裝置 Ghost Island VR Space Installation (Sonar+D 2019)
Enter the immersive VR space created by Taipei experimental electronic music producer Meuko! Meuko! and new media art group NAXS corp. to dive into the mythical world of "鬼島Ghost Island". As music traverses the antiutopian ruins of Ghost Island and Cyber-Dreamscape, you may find that this is not a fantasy or a fable, but the mythological reality in which we all live.
PRESS
Pitchfork - 鬼島 Ghost Island EP - Review - 2018
KEEDAN起點獨家專訪 包容溫柔與原始的顫慄之聲 / 台灣實驗電子音樂創作者 Meuko! Meuko! 文/圖 by Lucille Liu - 2018
F is for FENDI x Meuko! Meuko! BTS Interview on Wonderland - 2017
BOOKING
michelle[at]potnia-theron.de